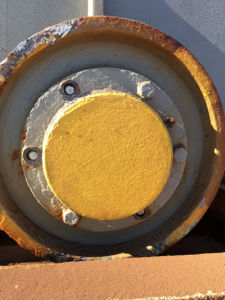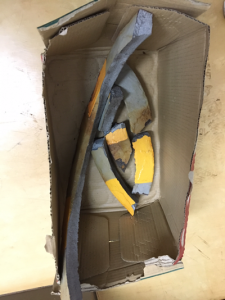 Broken hatch cover roller
A Marine Surveyor carries out a range of different types of ship survey, some of which are listed below.
Marine Surveyors can represent either vessel charterers or vessel owners, depending on requirements, and can carry out:  condition type surveys (eg on or off-hire, suitability surveys);  management type surveys (eg vessel assurance audits, ISM/ISPS audits) or operational surveys (eg annual DP trials for Dynamically Positioning vessels).
Suitably accredited Marine Surveyors are also able to carry out Offshore Oil & Gas specific vessel type audits such as OCIMF OVID or IMCA eCMID vessel inspections.
Marine surveyors also represent insurance companies, attending vessels to report on any hull and machinery, or cargo damage claims, and represent underwriters to continue to attend vessels to witness and report that any damage repairs are carried out to best industry practises and with genuine spare parts. Marine surveyors are also appointed by vessel owners to carry out similar supervision of any repairs carried out to their vessels or machinery by vessel charterers during a charter period contract.
Marine Surveyors attend not only to vessels for cargo insurance claims, but regularly attend to final distribution premises such as warehouses, where damage is only identified during cargo unpacking.
Marine Ship Survey
IMCA eCMID – IMCA

 

Accredited Vessel Inspector (AVI)

OCIMF OVID – OCIMF accredited vessel inspector

Vessel condition and suitability surveys

On/Off hire surveys

Internal ISPS and ISM audits

Vessel Annual DP Trials
Marine Insurance Survey
P&I Club vessel entry surveys




P&I Club Hull and Machinery damage surveys

Insurance Company general vessel and Hull and Machinery damage surveys

General cargo damage surveys (including attendance at final delivery sites after sent by road or rail)

Risk assessment surveys (generally on behalf of P&I Clubs)
Example of damaged goods identified during unpacking at warehouse.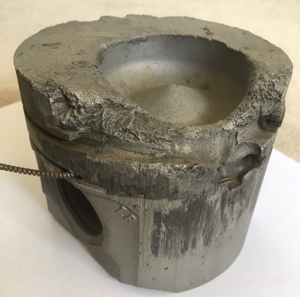 Piston damage from catastrophic engine failure.
Home | Privacy | Sitemap | Contact